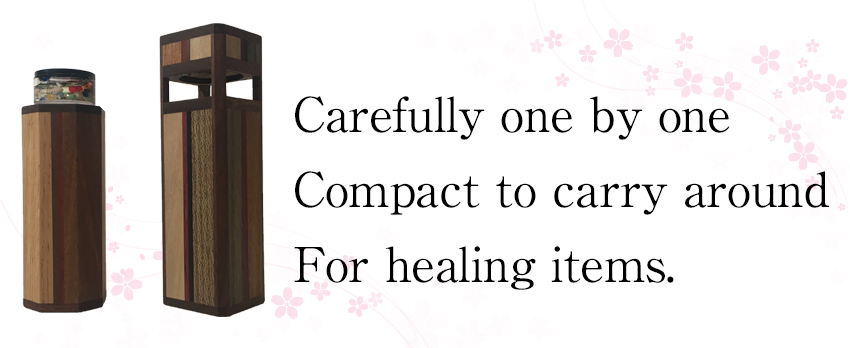 Your own bespoke kaleidoscope that suits each person
We are particular about materials such as glass mirrors, Swarovski, pearls, and natural stones, and we carefully manufacture each one.
In addition, it incorporates numerology and color psychology, so it is very popular as a healing item.
Its compact size fits in the palm of your hand, so you can easily heal and enjoy it while carrying it around.
Order flow
We will ask you about your date of birth and the emotions you want to get while looking at them (want to relax, want to get well, etc.).
↓
Temporarily make while incorporating the necessary power stones.
↓
Please check the temporarily manufactured kaleidoscope. Decide the type of appearance and the pattern of the case.
(If you are remote, we will respond by email or zoom.)
↓
Delivered after completion.
We also accept orders that are completely entrusted to you by skipping step 3.
customers voice
I happened to see it at a social gathering venue, but I fell in love with the type of kaleidoscope I saw for the first time. I ordered two bottles for a presentation from her wife and her daughter.
I think that the contrasting finish captures the image of the two people well. My wife and daughter were very pleased. Thank you very much.
Mr. T.N address:Sapporo City
I ordered it because it seems to be effective in correcting astigmatism. I learned about numerology for the first time, but it was interesting because there were quite a few parts that were applicable. The completed kaleidoscope was like a planetarium with a wide night sky. I felt it was kind to my eyes. Place it on your office desk and use it all the time. Thank you very much.
Mr. M.K address:Sapporo City
This is the first time I've seen a kaleidoscope with a slowly rotating pattern. I ordered it because it was very comfortable. On the way, I was contacted for temporary assembly and explained the appearance of several patterns and the pattern of the main body carefully, so I was able to ask with confidence. The carrying case is also a one-of-a-kind handmade item, and I felt that I was very particular about ordering. I am very satisfied.
Ms. S.S address:Sapporo City
I like cute and beautiful things, so I decided immediately when I saw the kaleidoscope.
It's very beautiful, and when you look at it in natural light, it seems to come into your heart.
I like the kaleidoscope case because it's Japanese style. I am very happy that there is one more item that makes me happy. Thank you very much.
Ms. S.M address:Sapporo City
Looking at my friend's kaleidoscope, I also wanted myself. I asked them to make it with the theme of business expansion and success. The finished kaleidoscope looks like a golden mandala, and I was motivated to look at it. I will cherish it as a companion. Thank you very much.
Mr. O.H address:Sapporo City
I liked kaleidoscopes and had several, so this time I gave it to my elderly mother. This is because the kaleidoscope was effective in preventing cognition. I was surprised to find a gorgeous kaleidoscope just like her mother's image, just by her mother's date of birth. I understood the meaning and goodness of the order. thank you.
Ms. K.M address:Sapporo City
While listening to a story at a cafe I met by chance, I wanted to have a kaleidoscope made. When you look at it, you will always feel energized with your favorite color combination. I think the timing was good because I was approaching a turning point. Thank you very much.
Ms. K.H address:Sapporo City
I ordered 4 people because I wanted to give a commemorative gift to those who took care of me. The color combinations derived from each person's birthday matched perfectly with their personality and atmosphere. Everyone is very pleased and thank you for making a one-of-a-kind gift. I also ordered my own, so I'm really looking forward to it.
Ms. H.Y address:Suzuka City
It is a world of illusion and mystery. It is a beautiful pattern that leads to sacred geometry and mandala. He used Kabbalah numerology to appraise my essence and the colors I needed. It's really beautiful and healed. You forget the time and you will be fascinated by it. Thank you very much.
Ms. O.A address:Ichikawa City
I asked for the image of looking up at the night sky while sailing. The color of my aura was purple, and that color was included, and the finish was as I had imagined. It makes me feel strange when I look at it ♪ It's very nice.
Mr. O.M address:Matsudo City
I wanted to "relax". I asked them to add colors from color therapy and numerology to my favorite colors.
The design of the main body was very nice with the artist's floral pattern that matched the image of the kaleidoscope pattern.
In addition to the kaleidoscope, there was also an appraisal sheet. I am very satisfied with the polite finish.
Ms. K.M address:Otaru City
As a reward for myself, I asked for the image of being in the forest. Deep green and light reminiscent of my favorite Yakushima! The image of my safe space is in Wilson's Stump, which I used to climb Yakushima. I remembered the scenery.
It's really a kaleidoscope that makes you feel at ease and motivated.
The warmth of the wooden cover is also good. It is very beautiful in both sunlight and lighting.
Ms. N.N address:Souka City
I asked them to check their color by numerology and put in Swarovski and power stones of that color. I am very happy to have a partner who supports me.
Ms. H.M address:Sapporo City
When you look at this kaleidoscope, ideas and fluttering come down. What a wonderful!
Ms. K.K address:Tokyo City
I was impressed by the wonderful items that stimulated not only the five senses but also the sixth sense imagination beyond that. The texture of Japanese paper, which is also a Japanese culture, is healed. thank you.
Mr. T.M address:Tokyo City
I ordered with the theme of "life force". It's a wonderful kaleidoscope where you can feel the vitality of the magma as if you were looking at it.
Ms. Y.S address:Tokyo City
I ordered with "an image of achieving the goal". When a little sunlight enters, the bright colors change to soft, and it feels like you are wrapped in something warm ヾ (
The tension rises from the morning!
Ms. T.R address:Tokyo City
Kaleidoscope is already captivated. I never get tired of watching it. Somehow I'm drawn in. Of course, it's beautiful, but I'm excited that the same pattern never appears again. thank you.
Ms. Y.M address:Osaka City